TAKE ADVANTAGE OF THIS AMAZING OFFER!

Get the Theme Bundle that contains 2 Powerful Themes (including Agora Theme) with only $37.99!

Agora Theme is included in the Theme Bundle along with 1 other unique and powerful Page Builder Theme, Success E-Commerce Theme.

Click on the link bellow to get the bundle with the 2 themes:
Powerful Theme Bundle with 2 Unique Octobercms Themes
---
PURCHASE AGORA THEME AT THE PREFERENTIAL PRICE OF $ 37,99
THIS PRICE APPLIES TO A LIMITED NUMBER OF PURCHASES
Agora Modular E-Commerce Theme for Shopaholic with powerful Eshop & Blog Capabilities and a Page Builder build in.
Agora is a E-commerce, responsive, Bootstrap 4 powered theme with page builder function inside and Shopaholic eshop plugin. With the help of rainlab pages plugin and snippets you can build your own unique style pages. There are 20 premade snippets that can help you build your own style using section blocks. You can create unlimmited categories, subcategories, products and brands and build your own unique and flexible eshop fast and easy!
Create Pages with "Page Builder"
30% of your purchase goes to help fund the October Project!
Features
Responsive design
High overall quality
Lightweight and very fast
Scroll animations
Bootstrap 4 carousel sliders
Bootstrap 4 tabs
Custom rich metadata
Subscription feature using Railab Mailchimp plugin
Account feature using Railab User plugin
Blog feature using Railab Blog plugin
Blog post auto creates carousel for uploaded featured images
20 premade section blocks to choose
Blog with tags, search and popular posts
Contact Us page
Google map that can show your spot only by entering your address!
Page builder native system using Rainlab Pages plugin and snippets for easily creating sliders, carousels, tabs, pricing tables, galleries, progress bars, services, contact us and more!
E-commerce plugin Shopaholic from Lovata let you showcase products in your online store. It's a catalogue with built-in functionality and tools to provide customers with basic online shopping experience that can be extended through extra plugins. The additional plugins can be used to build a full-fledged marketplace, while the basic Shopaholic solution is not overcrowded with unnecessary components.
Theme settings
Site info and locale
Google fonts , FontAwesome icon Fonts and Simple Line Icon Fonts
Brand selector, text or logo. Upload your logo and favicon
Enable Disqus Comments and Social Links
6 pre-built color schemes that can be switched, and a custom color style option that give you unlimited color possibilities
Animate CSS, AOS JS, Normalize CSS, Smooth Scroll, Sticky Menu, Transparent Header, Scroll To Top, Page Loader, Parallax Effect Addons
Top section with Login/Register menu and Call Us number
Add your own Social media with your own icons
Add your own Gallery
Custom CSS , Custom JS and Google Analytics
Section Blocks that can be used in Pages plugin
About section block
Carousel section block. You can choose as many slides you need uploading your photos or videos
Products Full Carousel section block.
Products Single Carousel section block.
Services section block. You can create as many services you need
Testimonials section block.
Clients section block.
Banner section block.
Small banner section block.
Team section block.
Support section block.
Blog section block.
Contact Us section block.
Contact Info section block.
Map section block.
Page Header section block.
Product Categories section block.
Latest Products section block.
Random Products section block.
Included Sample Pages
Home page with Image Header
Home page with Image Header Transparent
Home page with Images Carousel
Home page with Video Carousel
Home page with Products Carousel Full
Home page with Products Carousel Single
About Us page
Services page
Team page
Contact Us page with Google Maps geolocation
Eshop Catalog page
Eshop Category page
Eshop Parent Category page
Eshop Brand List page
Eshop Brand page page
Eshop Product page
Eshop Cart page
Eshop Success page
Blog page
Blog item page
Seacrh page
Tags page
Account page
Custom 404 and Error pages
Enhancements
Build in page builder system that uses octobercms snippets and Rainlab pages plugin to create easily client friendly multi purpose sites.
Blog featured images enhancement. If you upload more than one image to a blog post, a image carousel automatically created on blog list for this blog post.
Reorganized folder structure for OctoberCMS
Additional metadata included
Copyright year displayed with variable
Full Powered E-commerce system with the power of LOVATA Shopaholic plugin
Youtube Tutorials
For problems or errors that may occur, please make a reference to: (https://octobercms.com/theme/support/ketikidis-agora)
If you like the Theme, please, get me a good review!
Installation
Agora theme automatically installs the required plugins, but if something go wrong you can install them manually.
Go to your backend to Settings -> System -> Updates & Plugins and install the following Plugins. (just copy & paste the PluginIDs below and put it in the search box.)
Configuration
Theme variables: Backend > Settings > CMS > Front-end theme > Customize
Contact form: Backend > Settings > Marketing > Contact Form
Subscribe: Backend > Settings > Misc > MailChimb
Site search: Backend > Settings > CMS > SiteSearch
Blog tags: Backend > Blog > Posts > Click on post > Tags
Caution
Translate Plugin is fully supported, but you need to create another language in order for the theme to work properly. You need 2 or more languages, if you install rainlab translate plugin and you only have one language , Theme block sections system will not work.
Create Pages with "Page Builder"
Go to Backend > Pages > Pages > Add > Blocks (Tab next to content) > Add New Item > Select the block you want > Fill the fields > Click "Save"
You can see a tutorial on Youtube: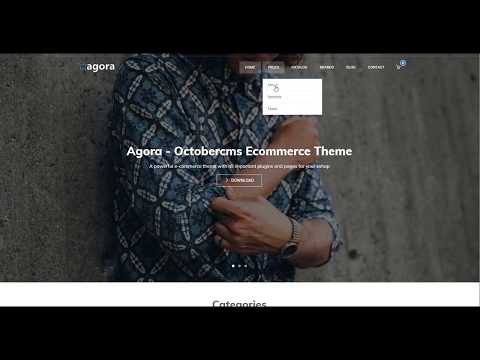 Change Theme Settings
Go to Backend > Settings > CMS > Front-end theme > Customize
For problems or errors that may occur, please make a reference to: (https://octobercms.com/theme/support/ketikidis-agora)
If you like the Theme, please, get me a good review!
Bryan Saltzman

Found the theme not useful on 12 Jan, 2023

I should've done more research before purchasing and investing time in this theme.

It claims to be compatible with October v3, but Shopaholic is not even compatible with v3.

Lots of errors and exceptions.

I would like money back or store credit for something else...

IT-PU

Found the theme useful on 28 Apr, 2021

Great theme, responsive, with plenty predefined options. It has several predefined color options, one can add own CSS to further costumize any parts. Also, easy to adjust - like translating parts etc. Really recommended.

Rudolf Erdei

Found the theme useful on 3 Feb, 2021

Usefull but cannot change color of main menu bar, also the menu text changes color from white to black and the logo cannot be uploaded in 2 variants, so that it will also change. Did anyone encouter this problem? How did you solve it?

Quinten Ceuppens

Found the theme useful on 2 Jun, 2019

Very good theme to use for my first client!

Key Agency

Found the theme useful on 23 Jul, 2018

Great theme to start with, We like the blocks and the structure.
1.1.13

PolloZen.MostVisited is no longer available so the dependency is removed

Jul 12, 2023

1.1.12

Fix $.request is not a function" error

Jan 12, 2023

1.1.11

Minor changes to framework script

Oct 09, 2022

1.1.10

Add Local Picker component on layouts

Oct 09, 2022

1.1.9

Support For Latest Ajax Framework

Sep 03, 2022

1.1.8

Update to support Octobercms 3.0

May 21, 2022

1.1.7

Navigation menu now supports Pages attributes external link and CSS class

Jul 21, 2021

1.1.6

Fix category view on page and partial. Fix category list menu.

May 11, 2021

1.1.5

Upgrades to support Octobercms v2

Apr 29, 2021

1.1.4

Smooth scroll js removed due to problems with newer versions of browsers

Mar 29, 2021

1.1.3

Contact block updated to support latest version of GrofGraf.ContactMe plugin

Mar 16, 2021

1.1.2

Update popper.js to latest version to fix some problems with js minification

Aug 21, 2020

1.1.1

General fixes

Aug 21, 2020

1.1.0

Added meta tag keywords

Dec 19, 2018

1.0.18

Fix pagination issue on blog category page

Nov 13, 2018

1.0.17

Strip html on meta tags

Nov 13, 2018

1.0.16

Added transparent header field on carousel single block

Oct 08, 2018

1.0.15

Rename repeater field name on yaml file

Oct 08, 2018

1.0.14

Fixed wrong field name for Bannersmall block

Sep 27, 2018

1.0.13

Minor css fixes

Sep 26, 2018

1.0.12

Update SCSS prefixes for better browser support

Jul 03, 2018

1.0.11

Popper.js update to latest version

Jun 20, 2018

1.0.10

Client carousel, scss and js fix

Jun 20, 2018

1.0.9

Layout fix for category block and category page

May 04, 2018

1.0.8

Fix Post Tags

May 04, 2018

1.0.7

Popular partial no image on video post

May 04, 2018

1.0.6

Fix Post social share

Apr 25, 2018

1.0.5

Remove addon that is not used

Apr 25, 2018

1.0.4

Add Bootstrap 4 tooltips, responsive product column fix

Apr 25, 2018

1.0.3

Fix arrows on dropdown category menu

Apr 04, 2018

1.0.2

Fix z-index on mobile menu, fix owl carousel video play

Apr 04, 2018

1.0.1

Default eshop layout fix and minor css fixes

Apr 03, 2018

1.0.0

Initial release

Apr 01, 2018