New in October CMS - 6th July 2021
New in October CMS - 6th July 2021
Posted in Announcements on Jul 06, 2021
Hello everyone

,
Over here at October CMS, things are moving faster than ever - so we're giving you a quick roundup of the recent updates.
An option to put the main menu on the
left side

of the screen

An ability to put the Administration Area main menu on the left side of the screen was a surprisingly popular request. We couldn't resist and implemented it. We have to admit, it looks and feels great and adds freshness to the application back-end

.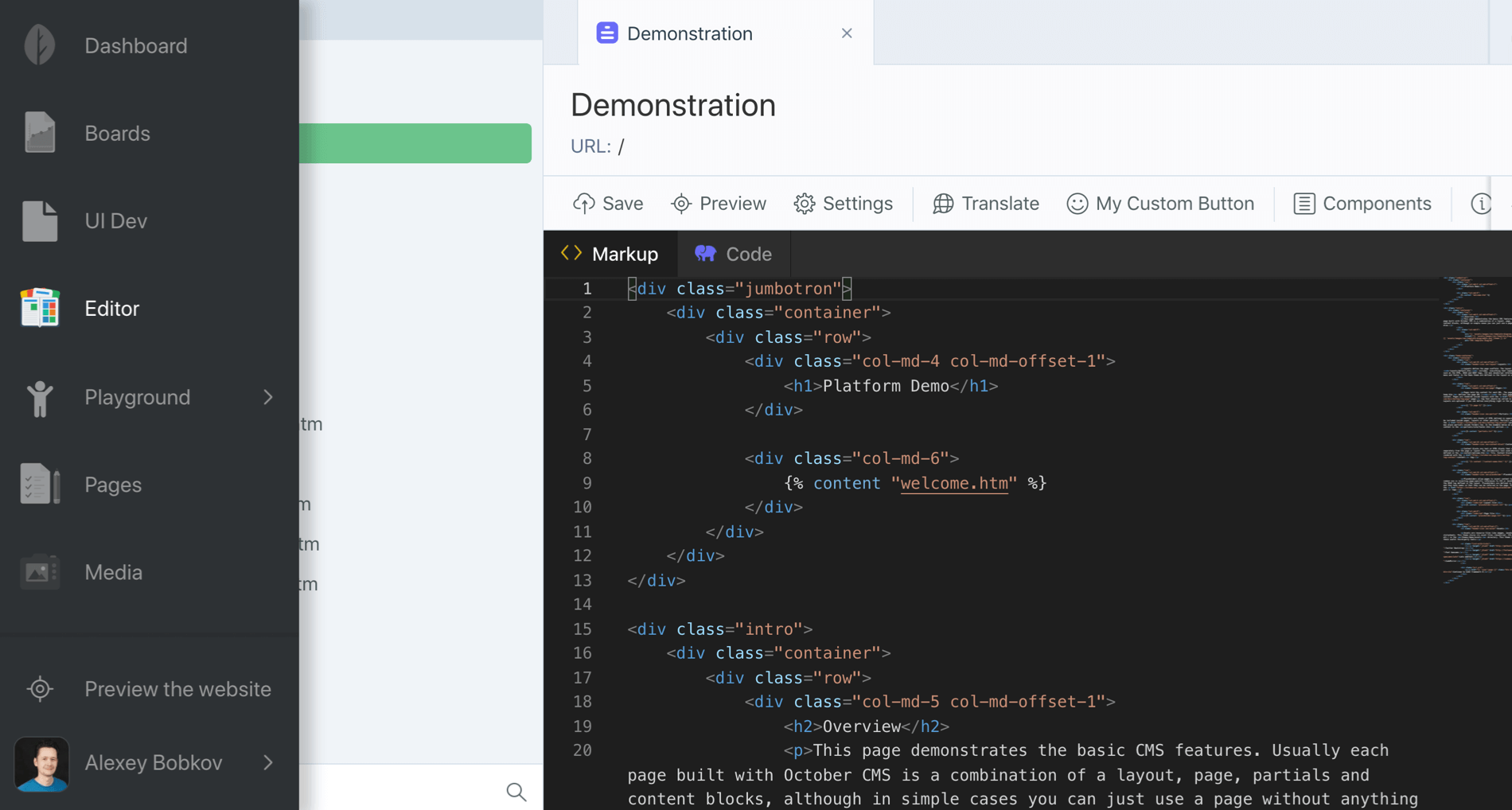 One-click deployment is ready!
After introducing full composer support in October CMS v.2 we received multiple questions on how to install and update the platform in shared hosting environments, where the command line and composer are not available. We have added a way to deploy updates on a production October CMS installation without the necessity to run Composer and access the server via SSH. With the RainLab Deploy plugin you can:
Update core files on a remote installation .
Update Plugins.
Update Themes.
Deploy configuration files.
CMS Extensibility API
The CMS Extensibility API allows you to extend the CMS Editor user interface

Add custom toolbar buttons and custom settings popups.
Add custom fields to the standard CMS Template settings popup.
Extend CMS Templates with any of the supported field types: text, checkboxes, media finders, tables, and everything else that Inspector supports.

Full
multi-language support

for CMS page URLs, titles and Meta fields

This feature originally existed in the first version of the platform. Now it is supported by our new and shiny CMS Editor and it works in tandem with the RainLab Translate plugin

. You can have multi-language versions for:
Page URLs
Page titles
Keywords
Descriptions
Two-factor authentication for octobercms.com accounts

Two-factor authentication is a method of adding an extra level of security to make sure that customers trying to gain access to their accounts on octobercms.com are who they say they are. We have added an optional time-based two-factor authentication because it is an expected security measure in modern online services. You can enable it on the Account / Settings page.
That's all for now!

Don't forget to keep an eye on our Portal and the Changelog to learn about planned, considered and released features.