PasjaHrana.net: Slovenia's Top Online Pet Food Store Transitions From Shopify to October CMS
PasjaHrana.net: Slovenia's Top Online Pet Food Store Transitions From Shopify to October CMS
Posted in Case Studies on Oct 03, 2023
In today's discussion, we have the privilege of speaking with Jan Hostnik, who serves as the Production Director at Spletna postaja.
Spletna postaja is an experienced and well-established web development company, specializing in website design and e-commerce development, with 25 employees and more than 20 years of experience. October CMS is their primary platform for developing custom solutions for different clients.
Among their recent endeavors, Spletna postaja has undertaken an impressive project – the creation of a bespoke online retail platform named PasjaHrana.net (accessible at https://www.pasjahrana.net/). This venture has propelled them into the ranks of one of Slovenia's premier virtual pet stores. The webstore stands out with its comprehensive range of offerings, encompassing more than 4,500 distinct products tailored for an array of pets including dogs, cats, rabbits, birds, ferrets, and other small rodents. The driving force behind the success of PasjaHrana.net is a team composed of dedicated professionals, ranging from veterinarians to ardent animal enthusiasts. This unique blend of expertise ensures that customers not only have access to an extensive array of products but also benefit from comprehensive and professional advice.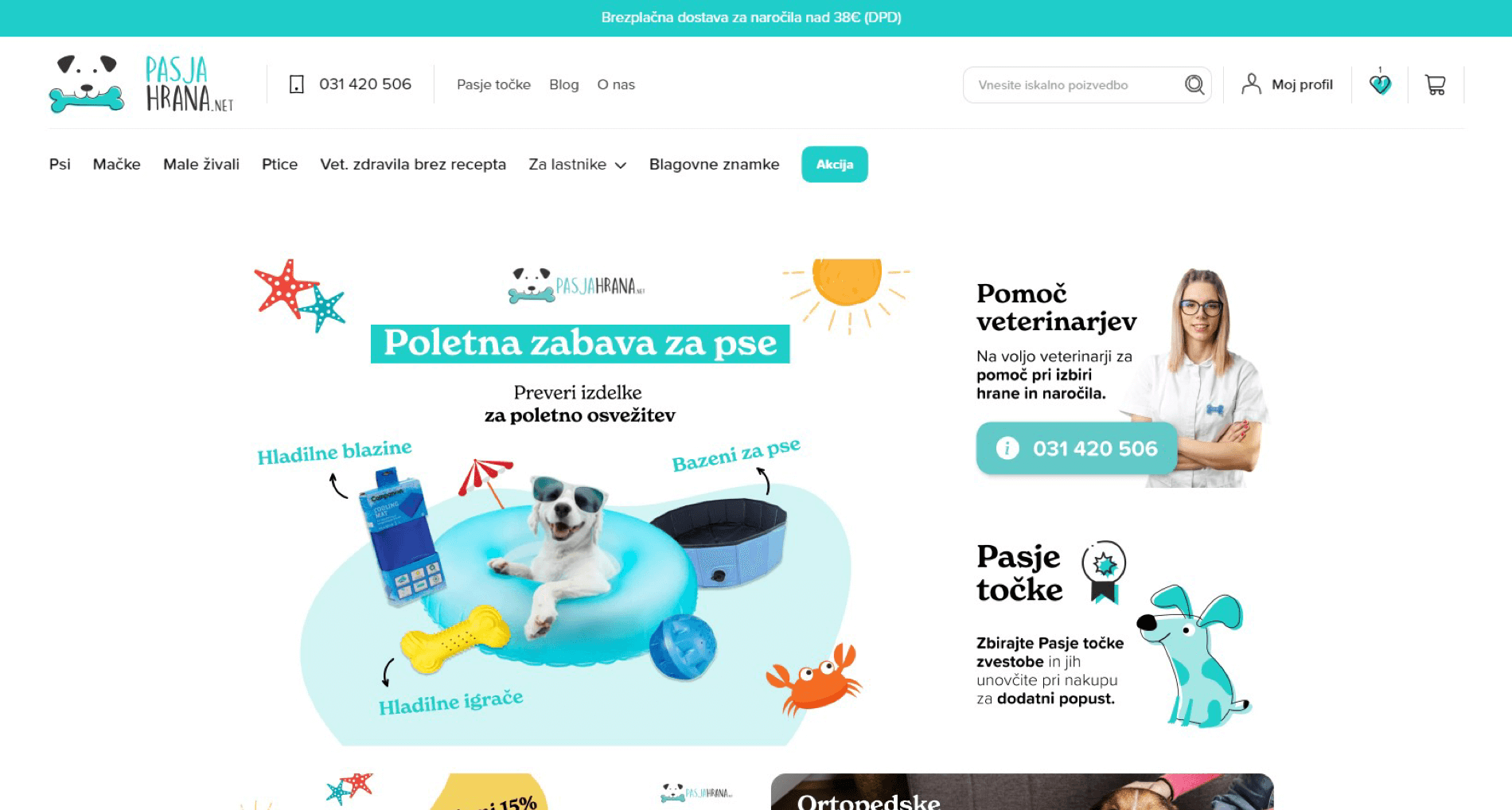 What's the motive behind the CMS transition?
PasjaHrana.net had already solidified its presence as a well-established enterprise, boasting extensive experience and a devoted customer base. However, as the company expanded, the aspiration for a more refined solution emerged, exacerbated by the hefty maintenance expenses associated with the existing platform. This evolution prompted PasjaHrana.net to confront several pivotal challenges during the transformational phase, including:
Migrating from the Shopify platform to October CMS.
Enhancing user experience to a new echelon.
Crafting a contemporary design that resonates with the sentiments of pet owners.
Elevating the speed and performance of the online store.
Implementing process automation.
Overhauling the customer loyalty system and seamlessly integrating it into the online purchasing journey.
Why did PasjaHrana.net choose October CMS over Shopify?
The decision to transition from Shopify to October CMS was a strategic one, deeply rooted in PasjaHrana.net evolving needs and ambitions.
Speed is of the essence: In today's digital landscape, speed is paramount for online stores. As PasjaHrana.net expanded into new markets, the need for rapid website performance became increasingly crucial. October CMS emerged as a solution with its flexibility and optimization capabilities, allowing us to fine-tune and enhance loading times. This ensured a seamless shopping experience for customers, regardless of their location, a challenge we faced with Shopify.
Tailoring to local markets: Managing international markets brings unique challenges, especially in catering to diverse regional preferences. October CMS offered the advantage of localized adaptations, including the implementation of a "country tunnel." This feature personalized content and experiences based on a customer's geographical location, a level of customization we struggled to achieve with Shopify.
Liberating from high commissions: Shopify's success fees and transaction charges are well-known. For businesses aiming to maximize profit margins, these fees can be limiting. October CMS allowed us to regain control by reducing reliance on third-party platforms and cutting overhead costs. This financial freedom led to more competitive pricing for customers and improved profitability.
Embracing unique store needs: Every business has distinct requirements that demand flexibility. Shopify's structured approach sometimes restricts adaptation. October CMS unlocked endless customization possibilities. We could accommodate intricate product categorizations, loyalty programs, and tailored user experiences that aligned seamlessly with PasjaHrana.net brand identity.
Escaping module confinement: While Shopify offers an extensive app store, it can lead to dependency on predefined modules. October CMS offered a broader spectrum of adaptability, liberating us from module confinement. This allowed us to craft unique functionalities and experiences without being boxed in by preset solutions.
Unleashing versatility: October CMS's versatility was a game-changer. Unlike Shopify, primarily focused on e-commerce, October CMS accommodates various web needs. For PasjaHrana.net, this meant that the website could serve as more than just an online store; it could be a dynamic hub of information, resources, and engagement, thanks to its robust content management capabilities.
What distinguishes the project with its special features?
Diving into the exceptional facets of this venture, we unveil a series of remarkable features that set it apart:
A sleek modern design with mega menu
The online store beckons with an expansive array of products and an intricately woven sales program, seamlessly presented through a mega menu and an exquisite premium design. The interface delivers clarity and transparency, engaging customers in an immersive shopping experience.
User-friendly purchasing process
Empowering users, the online store introduces an advanced user profile replete with a comprehensive order history, expenditure tracking, loyalty point acquisition history, current loyalty tier visibility, real-time order status updates, automated return initiation, and more. Elevating convenience, it's a portal tailored to cater to every customer's individual needs.
Mobile-first design
With over 90% of visits originating from smart devices, paramount emphasis has been placed on perfecting the mobile journey. The mobile-first design prioritizes responsiveness, ensuring a seamless and engaging shopping encounter on screens of all sizes.
Elevating product showcase
Going beyond the basics, the product presentation encompasses more than just the essential details like price, description, and imagery. Distinctive highlights and special instructions embellish each product's page. For savvy shoppers, an option for budget-friendly bulk packaging is on offer, accompanied by loyalty point rewards with every purchase.
ERP system integration
An innovative two-way connection with the ERP system facilitates the seamless transfer of critical data - ranging from inventory and prices to orders and their real-time statuses, alongside the swift exchange of essential documents.
Notify-Me functionality
Turning product unavailability into an opportunity, the "Notify Me" function takes the stage. When a product is out of stock but still active, interested users can register their email addresses. The system diligently notifies them once the product is back in stock, nurturing a sense of anticipation.
Enabling reviews and visual testimonials
Post-purchase engagement is elevated through customer reviews and opinions. A well-structured process encourages buyers to submit their insights along with images. Admin validation ensures credibility, and these testimonials find a home on both the product and user profiles.
Klaviyo integration for holistic engagement
Harmonizing diverse components, the Klaviyo integration ushers in a host of functionalities including real-time site interactions, product views, order interactions, and more. Some of the integrated Klaviyo events are: Active on site, Viewed product, Canceled Order, Checkout Completed, Checkout Started, Fulfilled Order, Ordered Product, Placed Order, Refunded Order …
Pet profiles
A heartwarming addition, pet profiles are intertwined with user accounts, encompassing names, birthdates, and endearing pictures. Klaviyo even lends a touch of delight, automatically dispatching birthday notifications for these cherished companions.
Crafting a comprehensive loyalty system
At the heart of the initiative lies a meticulously constructed Loyalty Program. It extends the privilege of discounts via accrued loyalty points, fostering a dedicated community of users. This engagement not only nurtures a loyal customer base but also curtails the costs tied to new customer acquisition.
What are the key components of the loyalty program in place?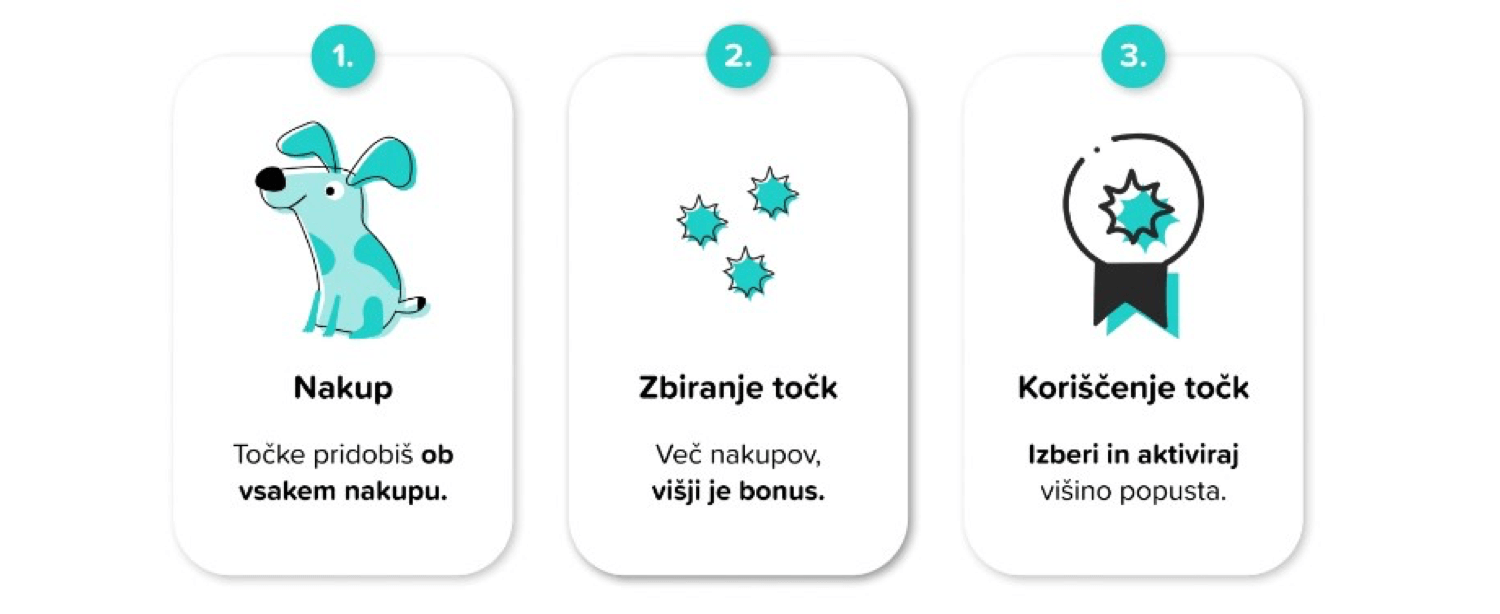 Our loyalty program is a cornerstone of our customer engagement strategy, devised to reward and foster a sense of community among our user base. Through this initiative, customers accumulate loyalty points that translate into a spectrum of benefits and discounts. The impact has been significant, augmenting our registered customer count and nurturing a steadfast community.
The operational framework of our loyalty program is designed with simplicity and utility in mind:
Ease of Utilization: Points can be seamlessly employed during the checkout process.
Accrual Mechanism: Users amass loyalty points with every purchase. The system operates with the following conditions:

Points are subject to expiration after a six-month period of inactivity.
Automated notifications are dispatched to users: three weeks prior, one week before, and one day prior to point expiration.

Administrative Flexibility: The administrators possess the capability to manually adjust points, whether adding or deducting, catering to a range of scenarios.
Adaptability in Transactions: For purchases conducted via cash on delivery or proforma invoice, administrators have the authority to manually allocate points.
Returns and Corrections: In cases involving product returns or adjustments to orders, administrators exercise the ability to manually alter points. Every alteration is accompanied by an explanatory comment, upholding transparency.
Encouraging Interaction: Customers are incentivized with additional points for sharing their product reviews. Furthermore, greater rewards await those who augment their opinions with accompanying images.
Pet Profiles and Milestones: Completing a pet profile or celebrating a pet's birthday adds an extra layer of engagement, rewarded through additional loyalty points.
Gifting and Sharing: A unique aspect of our program permits customers to allocate points to other profiles, linked by email, or even to contribute to shelter initiatives.
Are there additional pages you would like to emphasize, and could you provide the reasons behind your selection?
What are your envisioned plans for the PasjaHrana.net web shop in the future?
When charting the course for PasjaHrana.net web shop in the future, the pivotal focal point remains the paramount satisfaction of our esteemed client's customers. The ultimate objective revolves around expanding the repertoire of offerings, encompassing an extensive array of nourishment, nutritional supplements, diverse aids, cutting-edge equipment, and captivating toys tailored meticulously for small animals.
As we navigate these future endeavors, our primary drive resides in ensuring that each product embodies the highest standards of quality. By curating a range that is both comprehensive and exemplary, we strive to elevate the companionship experience for every small animal.
A central pillar in achieving this vision is a website that embodies adaptability, simplicity, and a seamless purchasing process. The cornerstone is an online platform that caters to swift, effortless, and user-centric transactions, aligning perfectly with the preferences of PasjaHrana.net discerning clientele.
Furthermore, our blueprint encompasses the integration of an array of add-ons, which will not only optimize the operational efficiency of the online store but also augment the overall shopping experience for the customers.
In essence, the future narrative of the PasjaHrana.net web shop is rooted in an unwavering commitment to enhancing product diversity, maintaining exceptional quality, and refining the online interface to deliver an experience that mirrors the brand's dedication to excellence.
Quotes
The project was very successful and we are happy to choose Spletna postaja as our agency. The new PasjaHrana.net webshop is characterized by its modern and user-friendly design, an easily navigable CMS editor and optimized site speed. However, what truly matters most is the consistent stream of positive feedback we receive from our customers. We are proud to say that we are the leading seller of pet food in our region.
Tadej Krek, Director of PasjaHrana.net
As a developer working on PasjaHrana.net project alongside others I really appreciate the organization and structure of October CMS projects. The ability to easily extend and customize the backend is really important for us and our clients as it allows for endless flexibility and future proofness of our projects. October CMS strikes a great balance between having premade CMS functionality and the ease of building custom functionalities. Extending with events is a great way of customizing functionality per project for both our internal plugins as well as public ones. It allows us to build future proof plugins without knowing the specific future needs of our projects and limits the project specific code to the individual projects. We also love the ability to extend Twig with custom filters and functions as it provides a great bridge between backend and frontend developers.
Nino Papež, back-end developer