Introducing October CMS Version 3.3: Dark Mode and White-Labelling Features Now Available!
Introducing October CMS Version 3.3: Dark Mode and White-Labelling Features Now Available!
Posted in Announcements on Mar 23, 2023
Hello everyone

,
We are happy to announce the launch of the recent updates in available in version 3.3, which includes two exciting new features: dark mode and white-labelling capabilities.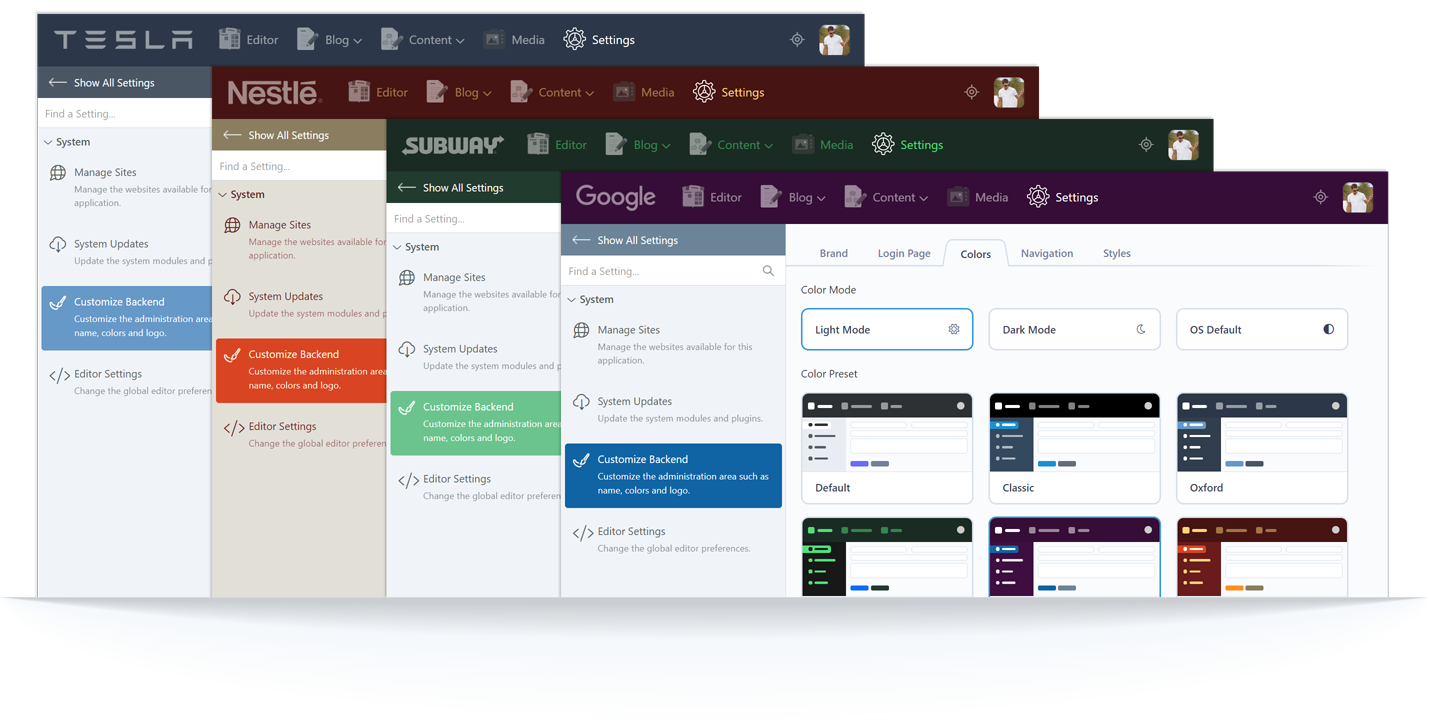 White-Labelling

is Here

We are proud to introduce white-labelling capabilities to October CMS. With white-labelling, businesses can customize the platform's appearance with their branding, color schemes, and logos, making it look and feel like their own proprietary software. This feature is ideal for businesses that want to establish their own unique brand identity while providing their customers with a high-quality CMS experience.
Customize Your Backend with
Dark Mode

Dark mode has become a popular addition to modern platforms as it reduces eye strain, provides a sleeker look and feel, and enhances user experience. We've worked hard to implement a dark mode selector in the settings area that is intuitive and easy to use. When dark mode is set to the OS setting, the design can switch to a darker color scheme that's easy on the eyes and perfect for working in low-light environments.
Multisite Settings Models
In October CMS 3.3, we've introduced support for creating settings models that are compatible with the multisite feature. This means you can employ varying settings based on the currently selected site. With multisite-compatible settings models, managing multiple websites has never been easier.
Color Picker Improvements
The form widget for selecting colors now offers advanced features to enhance the user experience. Users can now specify an opacity channel and store it as an 8-digit hexadecimal code. Additionally, a streamlined appearance has been implemented by adding a new input mode.
Inverse Relationships in Tailor
Tailor's entries field type now supports inverse relationships, enhancing its functionality. For instance, if a blog post assigns an author, it is possible to display all the posts from a particular author on the page seamlessly using the reverse relationship.
More Features Found at the Release Note
We've also made several improvements and bug fixes to enhance the overall user experience. These include better performance, improved security, and increased stability. If you want to get the full scope of the changes, more information on this feature release can be found on the v3.3 release note page.
We invite you to try the latest version and experience the new features for yourself. We hope you'll love it as much as we do!

Don't forget to keep an eye on our Portal and the Changelog to learn about planned, considered and released features.