October CMS Partner Program
Get listed in the Partner Directory to find new clients & support the CMS platform set to become legend.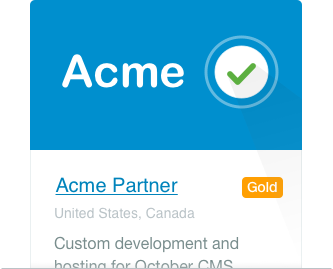 Official partners get a prominent link in the Partner Directory and a detailed partner profile page. The profile page displays a business description, optional screen-wide map, showcase of previous projects and imagery. A partner's profile page will be listed on this website forever, so you can refer to it from your website and get recognition as a platform expert.

Get quality leads
The October CMS audience is a growing community of web professionals and customers who are looking for development, hosting and professional support.

Be recognised as a community leader
The partner profile page published on the October CMS website gives your business invaluable reputation and brand position.
Pricing starts at just $87 per year.