October CMS Partner Program
Get listed in the Partner Directory to find new clients & support the CMS platform set to become legend.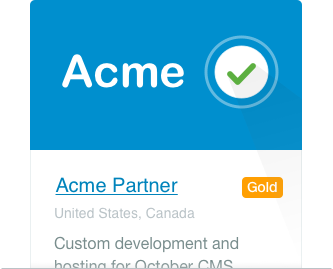 Official partners get a prominent link in the Partner Directory and a detailed partner profile page. The profile page displays a business description, optional screen-wide map, showcase of previous projects and imagery. A partner's profile page will be listed on this website forever, so you can refer to it from your website and get recognition as a platform expert.

Get quality leads
The October CMS audience is a growing community of web professionals and customers who are looking for development, hosting and professional support.

Be recognised as a community leader
The partner profile page published on the October CMS website gives your business invaluable reputation and brand position.
Don't miss your chance to share in the success

4,367,233 impressions were made on octobercms.com over the last 12 months. The website traffic has grown consistently since the launch date. Organic search, referral traffic, traffic from social networks — all metrics have positive dynamics. October CMS has grown two-fold over its third year.
20,000 users started 18,000 projects since launch in 2014. The user base keeps growing while the CMS attracts new developers and clients from around the world. Quality technical support, evolving technologies and a thriving Marketplace help ensure that October will continue to see more and more users every month.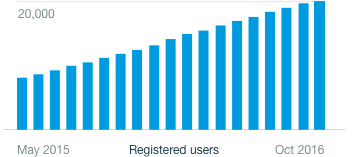 Pricing starts at just $150 per year.