Marketplace update - more accurate installation counting
Marketplace update - more accurate installation counting
Posted in Announcements on Apr 08, 2019
Today we've released a small but important update to the marketplace. We have always been using the number of projects as the popularity indicator for free plugins and themes. From now on the marketplace will display the number of installations for free products instead. This is a more precise method of showing how popular a product is within the October community.

Free October CMS plugins and themes can be installed in multiple ways:
From the October marketplace by binding a product to a project.
By adding plugins and themes during October CMS installation.
By installing a plugin or theme from the October backend.
By cloning a git repo, if the product author has provided the public repo URL in the product description.
By manually copying the plugin or theme directory to the October installation.
As you can see, only the first method involves a project, leaving other installations uncounted. This makes the number displayed on the marketplace lower than the actual usage. Paid products are not affected by this problem because paid products are always bound to projects.
A month ago we started counting unique installations for free products and today we have enough data to begin displaying numbers on the marketplace. You should see changes on the plugin and theme marketplace pages. Product authors will also notice some changes to the product dashboards: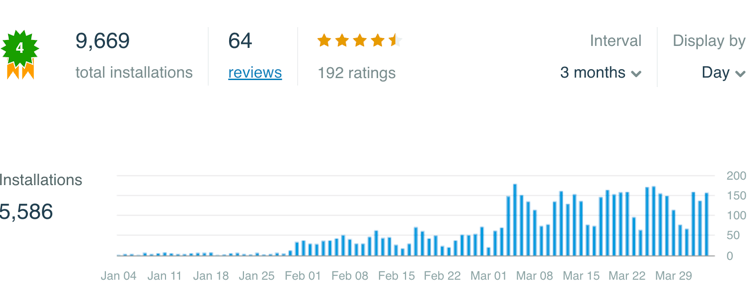 This update does not affect the method that we use to calculate a products rating internally, but as always we expect all authors to play fair.
We are happy to see that the October CMS utilization is growing everyday. Thanks for using October and for creating beautiful themes and useful plugins!