Marketplace update - automatic invoices and express payments for all users
Marketplace update - automatic invoices and express payments for all users
Posted in Announcements on Jul 12, 2016
Recently we have seen multiple issues with Marketplace payments where users from specific countries aren't able to buy a plugin or theme. PayPal has limited support in some countries, which affects both authors and customers. Another known issue we have observed is that many customers need invoices for purchased products and often authors don't know how to provide those invoices.
Today we've released an important update with a goal to improve the situation.
All payments switched to express mode
Right at the beginning of the October Marketplace, we used the adaptive payments model offered by PayPal for taking payments. We had high hopes for this technology, but the experience shows that it relies on a lot of factors: the customer location, author location and local PayPal rules. When the conditions aren't right, the payment fails with a general error. That causes general confusion, loss of revenue for authors and disappointment for customers.
The express payments model, which we have been testing over the last two months, is showing to be far more reliable. In the majority of cases switching to the express payments mode has fixed the payment issues.
With express payments, when a customer purchases a plugin or theme, the payment goes to OctoberCMS rather than to the author. We track all payments for all authors and send the collected amount to authors once per month.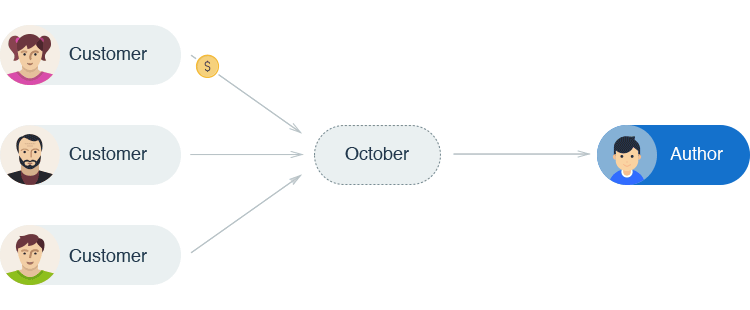 Authors get exactly the same amount as with the original payment model, but instead of being paid instantly after each sale, they receive money once per month.
Although we're going to consider other alternatives in the future, currently PayPal is a requirement for all customers. We're getting more flexible with payment options for authors. For example, if PayPal is not supported in your country, we could consider Bitcoin or other options.
If you have questions or concerns, please feel free to contact us by using the email link in the footer.
Automatic invoices
From today invoices are provided to customers automatically for all purchases they make. For any purchases made before this time, customers should still contact the individual author to request an invoice.
You can find the new Invoices menu item in My Account section of the website. Invoices can be printed, we recommend printing or saving to a PDF file for accounting purposes.
Australian tax
Taxes are now automatically collected for all customers who reside in Australia. The Add to Project popup now shows the product price with GST included. The current GST rate is 10%. If you do not live in Australia, this tax does not apply.
What's next
As you might have noticed, the Add to Project popup now allows you to enter a coupon code. Currently only the October team can create coupons, and those coupons affect only the gratitude part of the product price. Soon we will give authors the ability to promote products with their own custom coupons, so that you can have your own sale events, like the popular Black Friday sales.