Introducing Extended Licenses
Introducing Extended Licenses
Posted in Announcements on Sep 09, 2016
We are happy to announce the introduction of Extended licenses for all October plugins and themes. The main difference between an Extended and Regular license is that if you purchase an Extended license for a plugin or theme, you can use that product for an unlimited number of projects. Whereas the Regular license will allow you to use it for one project only.
Extended licenses are beneficial for web studios and freelancers who use October on a regular basis. If there's a plugin or theme that you add to your projects over and over, you might consider purchasing an Extended license to reduce expenses on the future projects.
Extended licenses are automatically available for all paid products. The price for an Extended license is calculated automatically based on the price of a Regular license using a 35 times multiplier. So for a plugin with a regular price of $5, the Extended license will cost $175 to purchase. Keep an eye out for author specials because coupon code discounts apply to both Regular and Extended licenses.
To purchase an Extended license, simply click the usual Add to Project button from the detail page and then select Extended in the License type section.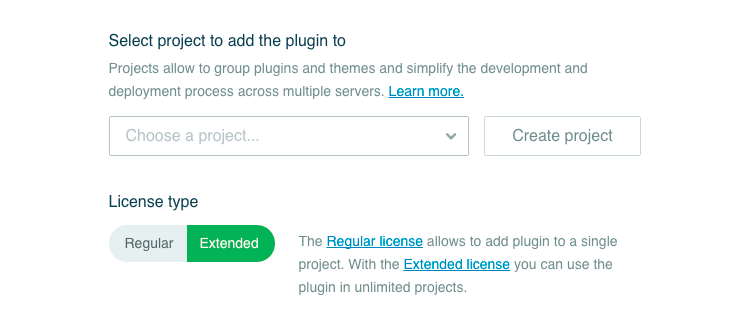 If you are an author, you'll see an Extended license purchase in the sales reports as usual, but the sales list has a new column called License, which the value could be either Regular or Extended. Also in your Notifications panel, the Extended license transactions are marked with a special symbol.

We hope Extended licenses will be useful for the professionals among the October community, which is growing quickly. Be sure to read the Extended license agreement to learn more.