Improving Website Sales Conversions with October CMS Popups
Improving Website Sales Conversions with October CMS Popups
Posted in Tutorials on Jun 16, 2021
For most digital agencies and their clients, the biggest issue is getting enough sales. You must focus on the proper techniques to convert visitors into leads, customers, and subscribers. It's getting much harder to do nowadays because there are so many competitors.
They're all doing the same things or trying to. That means each one is vying for the attention of your potential client. Many people are now using high-performing CMS platforms, and one of the highest-performing ones in October CMS. With it, users can create an online store with ease.
However, once you do that, you're not finished because a sales conversion can only happen when someone becomes a lead and decides to buy. Therefore, smart website popups are coming to the rescue.
To get October CMS popups, you have to use a unique tool, and there are many of them out there. Most of these tools let you create website pop-ups that are highly converting in minutes. What does that mean, though?
When you have high-converting website pop-ups, it means that people visit your page, they see the popup, and they are interested immediately in what you're selling. Sales conversion focuses primarily on turning leads into customers.
October CMS platform recently launched a popup and contact form builder, meaning users can now enjoy the benefits of creating pop ups quickly to boost conversions in their online stores!
How Popups Can Grow Your October CMS Website
Did you know that high-performing pop ups can average a 10% sales conversion rate? Though many digital agencies believe that pop-ups are dead, old-fashioned, and annoying, they're not thinking clearly!
It's true that people have had a bad experience or two with popups. However, things have changed drastically since the first pop-up ever popped up.
The average conversion rate for pop-ups is 3.09 percent (2020). While that doesn't seem like a lot, think about those huge, trustworthy companies still using pop ups today. They're collecting a ton of data because they work if you know how to use them.
Many companies have also used pop-ups to increase their subscriptions by about 86 percent and their sales conversion rates up to 162 percent. Pop-ups work!
For instance, the iClebo robot vacuum case study found that exit popups cut their lead cost by a whopping 50%.
There are countless case studies out there to tell you how pop ups are beneficial. However, most people want to get down to it with the benefits of October CMS popups, and here they are:
• Reduce Cart Abandonment
You can engage with shoppers who leave their checkout page or cart with pop-ups. Give them an exclusive offer on exit, which fulfills their needs, lowers the price, and helps you with your sales conversion rates.
Don't even make them provide an email alone; just give them a promo code to get instant savings immediately. Promo codes eliminate the barriers and let the shopper redeem your offer right from the cart, reducing cart abandonment issues.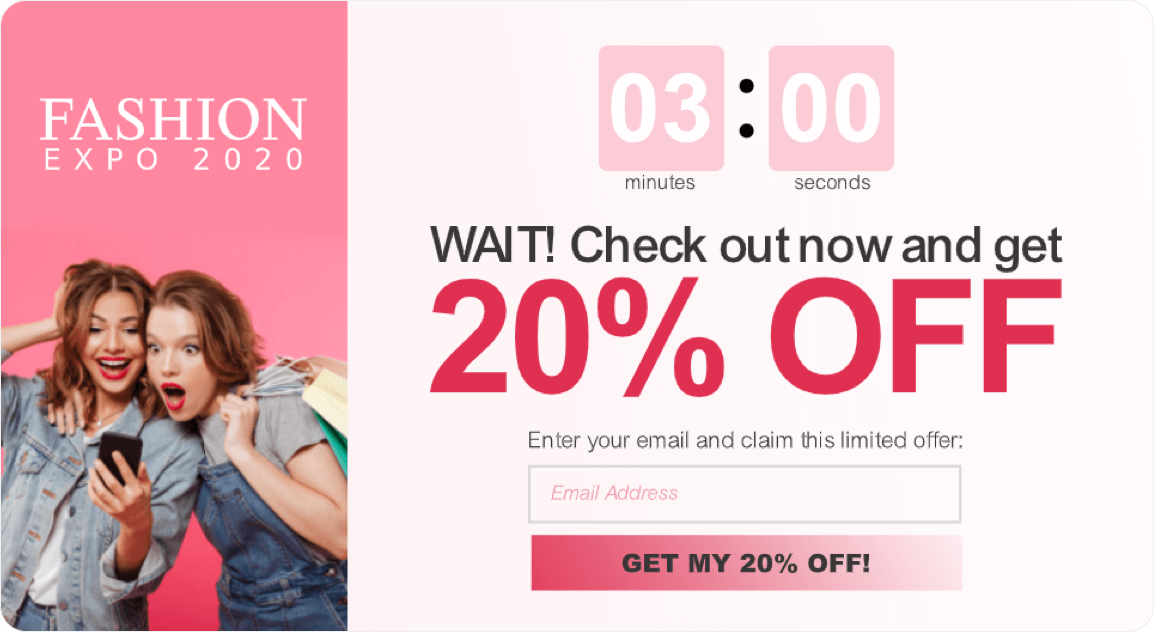 Source: Poptin
• Generate More Leads
Contests are a great way to generate leads, so present website visitors with a chance to win something if they sign up with their details and email address. This pop-up promotion is high-value for the visitor and doesn't cost you all that much. Many shoppers are instantly interested in such offers.
Popups convert like crazy!
• Improve Email Signups
Every digital agency and its clients want to grow its email list. It's much easier to reach out to your audience and generate sales if you have the email address. Typically, it's easier and efficient to use pop-ups to grow your email list and improve signups on your site.
To invite guests to sign up for a newsletter, a little pop-up window is your best friend. It draws your guest's attention, and those who do enter their email become promising subscribers.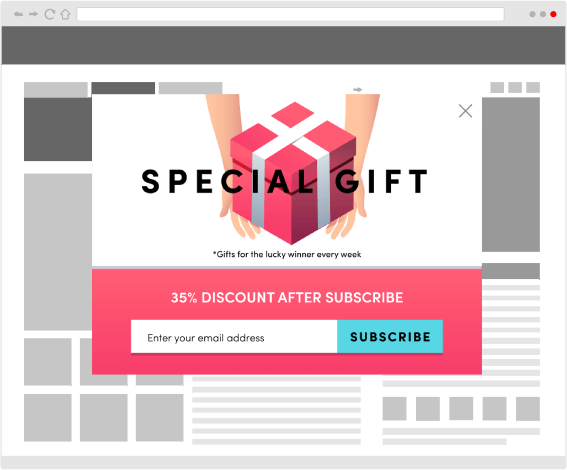 • Boost Customer Engagement Experience
As an online store owner, you want customers to engage with you and have a great experience doing that. Though they can go to your social media page to do that, you also want them to do it on your website, and pop-ups are the best method here.
They visit your website, and they see a pop-up. If they click on it, they're engaging with you, whether you're asking for feedback, requesting an email, or offering a discount. Plus, pop-ups show that you're updating the site regularly and want your customers to have a great experience.
• Grow Social Media Following
Don't negate social media altogether, though. You can grow a vast social media following with popups. When people follow your product or company, it widens your online presence and focuses on brand awareness.
Create some social popups with share buttons so that visitors can share your content directly from your site. Others see it since it goes straight to their social media page, too! This works incredibly well for lead generation, but it can also give you better sales conversion rates with time.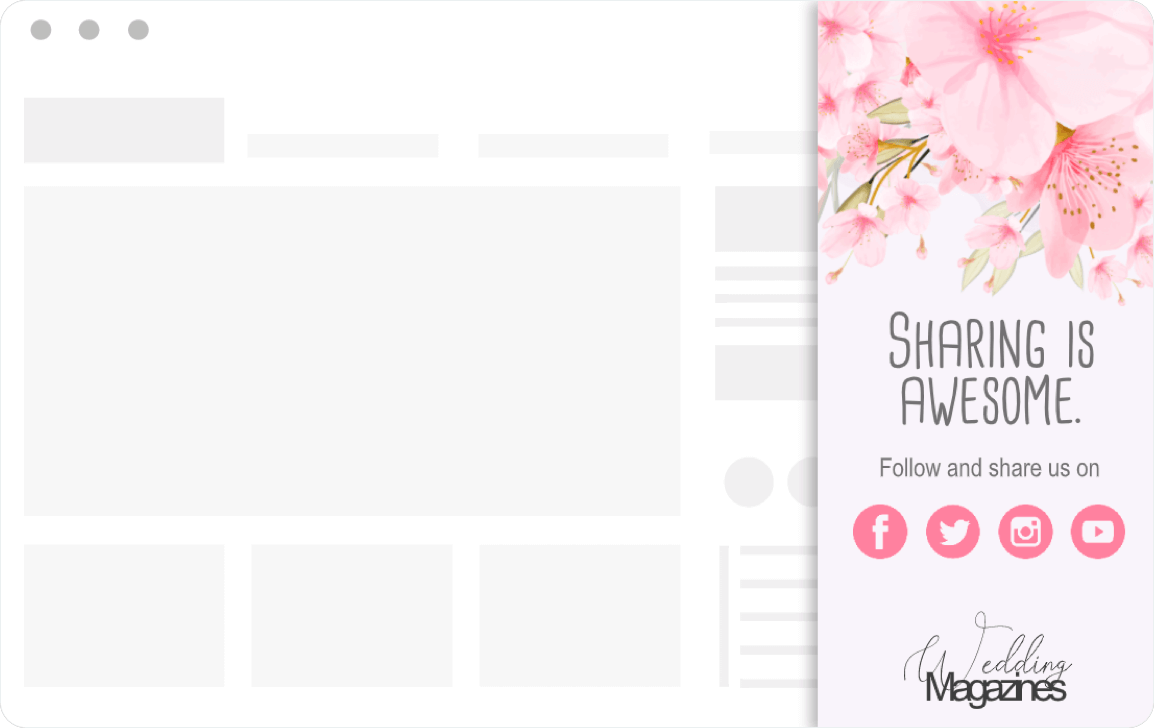 Source: Poptin
• Get More Sales
Most people prefer to shop online anyway, so you've got plenty of leads. However, it's hard to get them on your site to stay there. When you use pop-ups, you can promote sales online.
Use unique offers, images, videos, discounts, and so much more. These things have to be punchy and to the point, but they genuinely work. Plus, you can even instill that FOMO feeling by adding a countdown timer!
• Highly Affordable Compared to Other Advertising Tactics
In most cases, pop-ups are pretty affordable, and some CRO tools even offer them for free. Regardless, other advertising tactics, such as PPC, can cost double or triple what pop-ups cost. You also see a better ROI with a pop-up than you do other options.
• Grow Brand Visibility
While pop ups themselves are highly visible (and often right in the center of the page), they can create brand awareness, too. If someone sees a pop-up, they might enter their email address. From there, you can send them emails about different promotions and services. Your name is always in the back of their mind as you continue sending emails, so it's a matter of time before they buy!
• Increase Overall Traffic Conversion
Many people also focus on overall traffic conversions. The more people you have at your online store, the better. They might not all buy something, but it also indicates that you're seeing more traffic, which can lead to better positions in SERPs on Google.
• Get Instant Feedback from Visitors
Use your popups to ask people about their opinions on anything. Compile all of that data into a poll and let it work for you. Plus, you also get instant feedback from visitors if they close out the popup. It tells you it didn't work for them, but it's not the end of the world!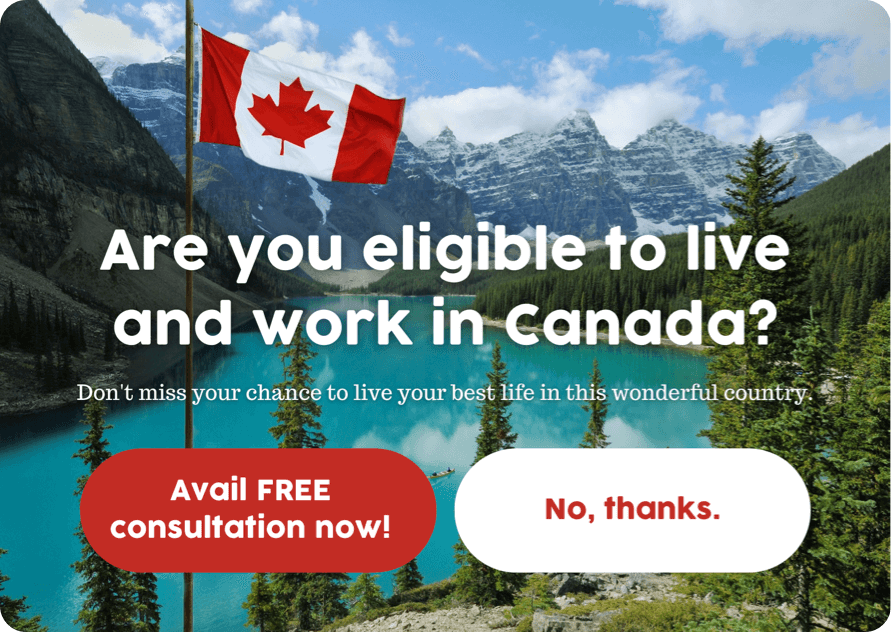 • Wide Range of Customization Options
Your October CMS popups can be customized entirely, just like you might for an ad. Therefore, you can offer whatever fits your company's needs or what you're trying to do. This includes information on new products, FAQ answers, discounts, and so much more.
Creating Your October CMS Popups
October CMS popups are easy to create since users have access to pop-up builders that work well for SaaS companies, website owners, digital agencies, and SMBs.
Such tools do everything mentioned earlier, such as reducing cart abandonment, getting more subscribers, increasing engagement for visitors, and all the rest.
User-friendly Features and Tools to Maximize Popups Potential
When choosing your popup builder, you must focus on how user-friendly the features and tools are and how you can maximize your potential with popups by using them.
Here are the top features you should look for:
No Coding (Drag and Drop Interface)
Look for a user-friendly drag/drop editor, so you can achieve whatever you want in a short period. You have more freedom to style and edit the popups for your forms and websites without writing code.
You can even make October CMS popups that are responsive and compatible with any device, including tablets and smartphones.
For example, you can remove elements you don't want, edit them, and add others. The entire interface should be customizable.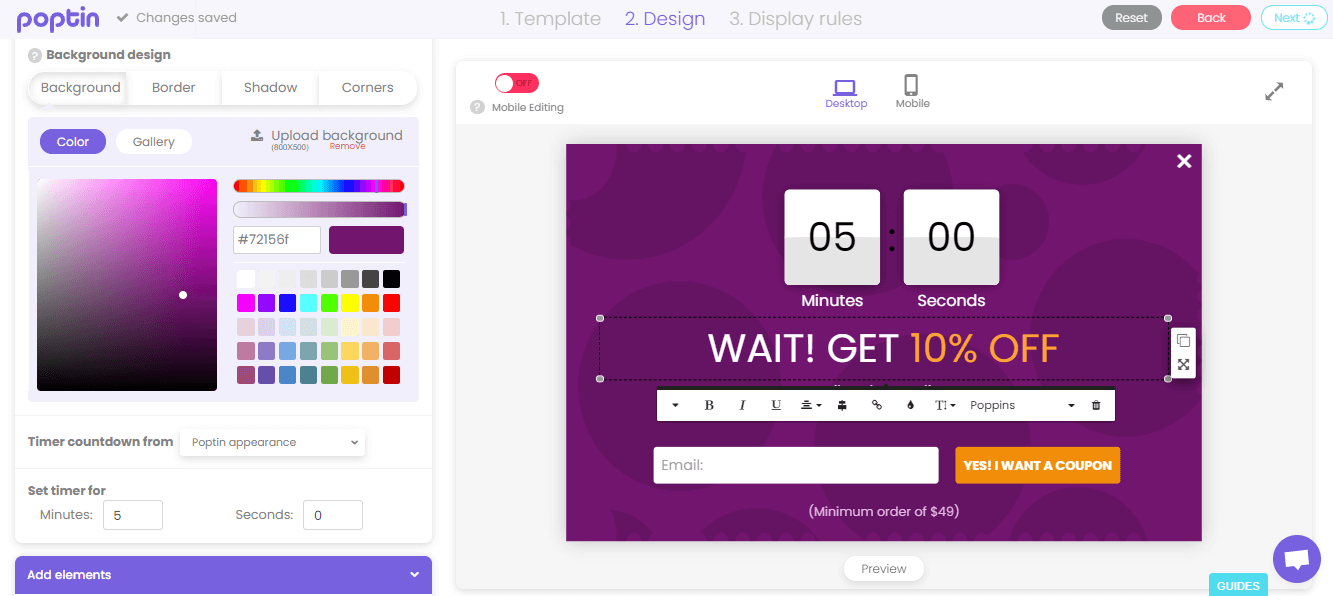 Customization Options
Customization is key here. It's essential that you can add and remove images, change icons and fields, edit the fonts and word sizes, change colors, and so much more. Plus, you can even move around the different elements to work for your needs.
That's not all, though! You should easily see the design tools on your interface. It must also display various rules to know what to do before you publish the popups.
Exit-intent Technology
Exit-intent technology tracks the mouse movements of your website visitors, so it can tell when someone is about to leave without buying anything or providing an email address.
With this technology available for October CMS popups, you can capture leads by showing a widget or popup when the cursor leaves the site's frame. There's also a way to use this technology on mobile devices that don't use a cursor.
Usually, exit-intent popups work because the visitor is already clearing their mind to do the next thing. This is the easiest time to catch attention and show them a great offer!
Smart Triggers
There are many smart triggers available, which works well with October CMS. You've learned about the exit-intent one, but there's more:
Page Scroll – Appears when the visitor scrolls down enough
Time Delay – Displays messages at a specific time
Page Count – Shows up when a user visits a particular amount of pages
On-click – This appears when someone clicks a specific element
Inactivity – Captures attention again when visitors are inactive
Click Count – Shows when a specific number of clicks are reached
Autopilot Trigger
Another smart trigger is the autopilot trigger, and it decides when the right time is for your popup. This is a very advanced feature that takes the burden off you for determining how to use your popups.
Turn it on, and it automatically runs various tests to learn about your visitors' behaviors. Once that behavior is classified, it's a lot easier to know when to engage with visitors, offering you better sales conversion rates with time.
Targeting Rules
October CMS popups can be implemented with targeting rules based on country, time, JavaScript, cookies, and more. You're in complete control here and can convert relevant leads to show them the best CTA to speed up sales conversion rates.
Autoresponders
Autoresponders are used heavily by many websites. They allow you to send automatic thank you or welcome emails to new leads or subscribers. You can create your email template sent to subscribers when they engage with a popup on the site.
A/B Testing
You've got to improve your popups continuously and do that with A/B testing. It lets you test two similar versions of the same popup to see which people react better. This saves a lot of time and can compare different triggers, content, CTAs, and more.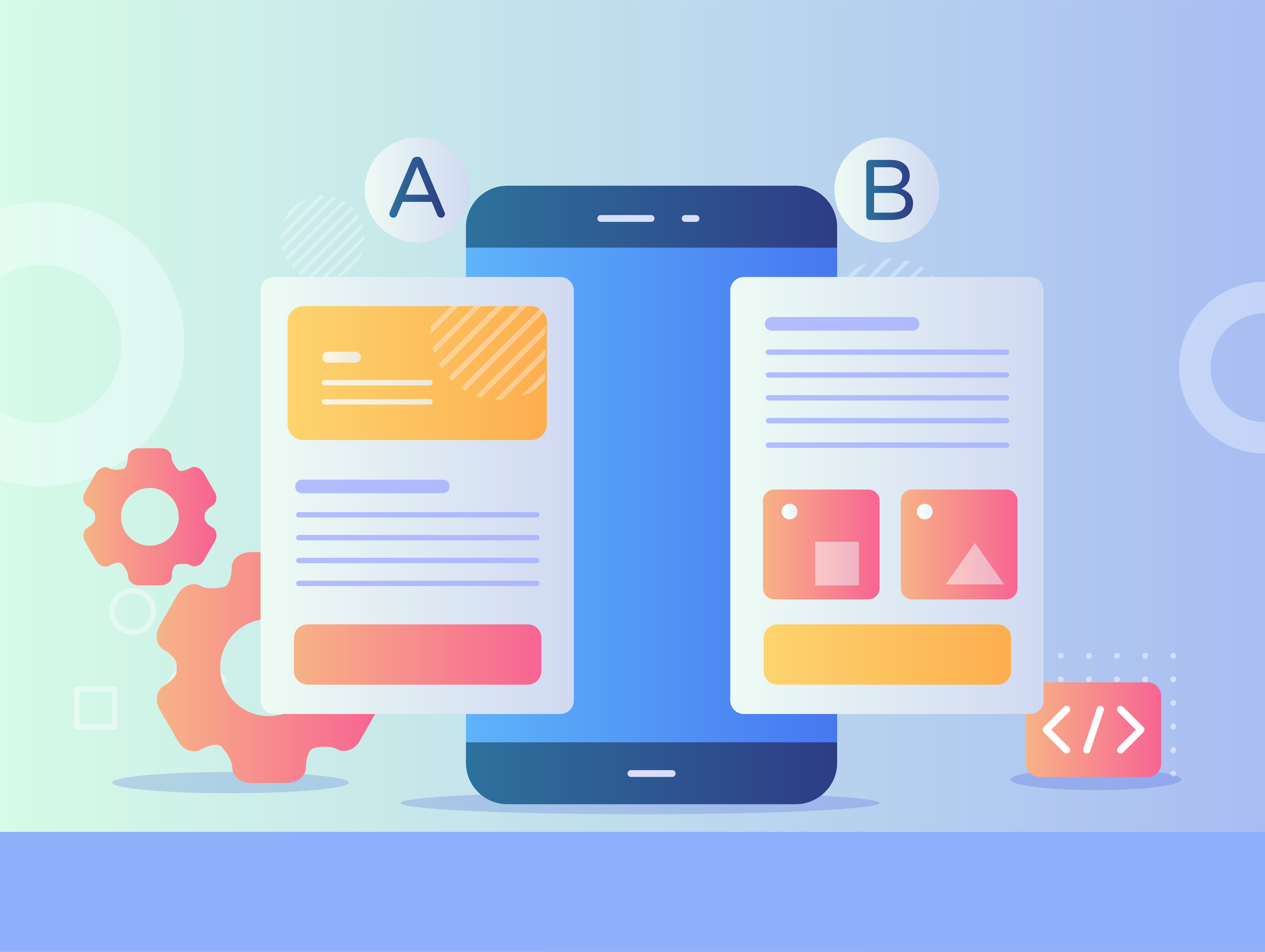 Source: Freepik.coms
Analytics
It's essential to measure success, and analytics help you do that. You can monitor the performances of your popups in real-time to ensure that everything is working correctly.
Native CRM & Email Integrations
The CRO tool you use should be designed to integrate smoothly with different emails and CRM programs. These must include powerful software like MailChimp, Constant Contact, GetResponse, Salesforce, and much more.
Live Chat Support
Live chat support is crucial for every online website. When people have questions, they want an answer immediately. Usually, you see these pop up at the beginning when you visit a site, and you can close them down until you need them.
Conclusion
October CMS popups are the best way to generate leads and get higher sales conversion rates. However, it's crucial to get the right system to help.
Using popups the right way allows you to generate more leads, grow your visibility, get feedback from visitors, and boost your sales.
If you haven't been doing it until now, you should definitely be using website popups to grow your business!
Author's Bio
Abbey Claire Dela Cruz. She is the Marketing Manager of Poptin. Her expertise as a content writer and marketer revolves around devising effective conversion strategies to grow businesses. Connect with her via Linkedin.